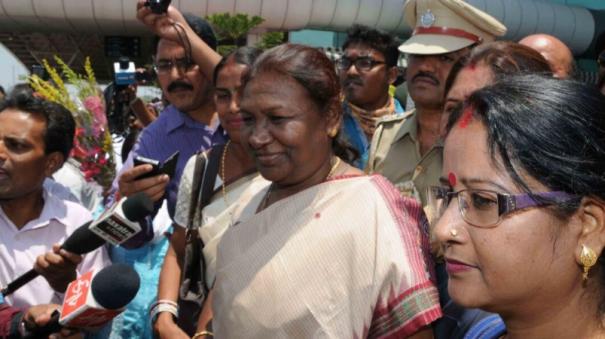 Presidential Election: Draupadi Murmu to file nomination tomorrow

Last Updated: 23 Jun, 2022 07:11 AM
Published: 23 Jun 2022 07:11 AM
Last Updated: 23 Jun 2022 07:11 AM
New Delhi: President Ramnath Govind's term ends on July 24. Following this, it has been announced that the Presidential election will be held on July 18. It has also been announced that the votes will be counted on the 21st. Candidature filing for this started on the 15th. The 29th is the last day to come.
Former Jharkhand Governor Draupadi Murmu (64) was yesterday announced to contest the presidential election on behalf of the BJP-led National Democratic Alliance. Similarly, it was announced that former Union Minister Yashwant Sinha would contest on behalf of the opposition parties, including the Congress and the Trinamool Congress.
In this context, it has been reported that Draupadi Murmu is scheduled to file his nomination tomorrow (June 24). He will be accompanied by Prime Minister Narendra Modi, Union ministers, state chief ministers and leaders of some political parties, including Biju Janata Dal leader Naveen Patnaik. It has been reported that then Prime Minister Modi will be the first to propose and others will propose.
Request by Naveen Patnaik
Odisha Chief Minister Naveen Patnaik tweeted, "Odisha's daughter Draupadi Murmu is contesting the presidential election. All MLAs must vote for him unanimously, regardless of party affiliation. "
In another post, he said, "I was very happy when Prime Minister Modi consulted with me on this. This is a very proud moment for the people of Odisha. "
.
Last Updated: 23 Jun, 2022 07:11 AM Published: 23 Jun 2022 07:11 AM Last Updated: 23 Jun 2022 07:11 AM New Delhi: President Ramnath Govind's term ends on July 24. Following this, it has been announced that the Presidential election will be held on July 18. It has also been announced that the votes will […]
Published on : June 23, 2022 at 10:18 AM